Apply for Assistance
Cameron's Crusaders Corp. is a non-profit organization, which is dedicated to assisting children and their families of the New England region who are battling medical issues, and who lack sufficient health insurance and/or financial resources.
In order for you to qualify for financial assistance through Cameron's Crusaders:
The patient must be on active treatment or within one year of treatment in order for the family to qualify
In each case, a child or young adult must be impacted in a significant way. The majority of our funds are used to support families with a child (aged 21 or younger) with assistance with their medical needs.
The patient or family must be represented by a social worker or resource manager who can serve as a liaison with Cameron's Crusaders and verify the patient's or family's financial needs and the patient's medical information
The patient or family, through the social worker or resource manager, must demonstrate hardship related to the financial impact of their loved one's medical needs.
Eligible expenses are considered to be necessity items, including mortgage or rent, utilities, auto-related expenses (eg, repairs, loans, and insurance payments), child care, treatment-related travel, hospital parking, prescription medications, other ancillary uncovered medical costs, etc.
If you are applying for assistance, please download and complete the following application packet. Then use the contact form below to let us know it's on its way to us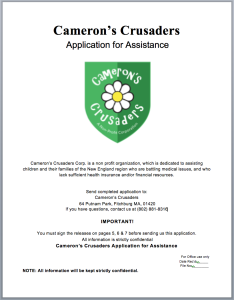 .