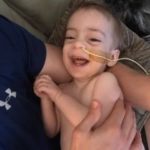 We need your help to save Purnell…
Cameron's Crusaders has been asked by the Sabky family for assistance.
Just before Mother's Day, a smiley, gentle Purnell was diagnosed with a rare and fatal genetic disease called Niemann-Pick Type A (think baby Alzheimer's), and if nothing is done, it is unlikely Nell will make it to his 3rd birthday.
TIME IS OF THE ESSENCE
The average lifespan is 2 to 3 years and rapidly progressive neurodegeneration (think baby Alzheimer's) normally begins between 15 and 18 months of age. Purnell is 17 months old.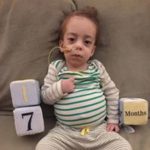 Cameron's Crusaders has been asked by the Sabky family to help cover the travel expenses for Purnell's visits to New York City where they are meeting with and being treated by the leading medical experts in Niemann-Pick disease twice a month.  We have covered the gas and parking cost needed already, now we will be covering the cost of their stay at a hotel near the hospital.
You can read more about Purnell at https://www.facebook.com/SavePurnellToday
What is Niemann-Pick Type A?
Niemann-Pick disease is an inherited condition involving lipid metabolism, which is the breakdown, transport, and use of fats and cholesterol in the body. In people with this condition, abnormal lipid metabolism causes harmful amounts of lipids to accumulate in the spleen, liver, lungs, bone marrow, and brain. Niemann-Pick disease type A appears during infancy and is characterized by an enlarged liver and spleen (hepatosplenomegaly), failure to gain weight and grow at the expected rate (failure to thrive), and progressive deterioration of the nervous system. Due to the involvement of the nervous system, Niemann-Pick disease type A is also known as the neurological type.
https://rarediseases.info.nih.gov/diseases/7206/niemann-pick-disease-type-a
How you can help;
We dedicate a portion of the proceeds raised from all our fundraisers to a family asking for assistance. Cameron's will be devoting 50% of the proceeds from Comics & Cocktails 2 for the Sabky family's request. Please buy your tickets to "help make a difference in a child's life".  If you can't make it to the show and would like to help you can make a donation to Cameron's Crusaders in Purnell's name and we will earmark it for the family's assistance.
https://www.facebook.com/events/1003989336403612/?acontext=%7B%22source%22%3A22%2C%22action_history%22%3A%22%5B%7B%5C%22surface%5C%22%3A%5C%22timeline%5C%22%2C%5C%22mechanism%5C%22%3A%5C%22surface%5C%22%2C%5C%22extra_data%5C%22%3A%5B%5D%7D%5D%22%2C%22has_source%22%3Atrue%7D&source=22&action_history=%5B%7B%22surface%22%3A%22timeline%22%2C%22mechanism%22%3A%22surface%22%2C%22extra_data%22%3A%5B%5D%7D%5D&has_source=1&hc_ref=ARQu3iT8CiGXjsD6AgaCwWyu7DFLv-IJcATo0q_evVPCQ2uDXM33i7SpRm0ghHOXJNw
https://tickets.bullrunrestaurant.com/eventperformances.asp?evt=784